On the night of Jan. 21, 2023, an armed man entered Lai Lai Ballroom & Studio in Alhambra, California. 26-year-old studio manager Brandon Tsay thought they were being robbed.
But the man — clad in black and cradling an assault rifle — glared past the cash register, past the other valuables in the lobby, and toward the dance floor, where the remaining patrons swayed to the rhythm of the music. That's when Tsay realized, "Oh my god, he's trying to kill people."
Now, more than six months later, San Gabriel Valley residents are still recovering from the shooting that night: minutes before being stopped by Tsay at Lai Lai, the 72-year-old assailant had killed 11 people at Star Ballroom Dance Studio in the neighboring city of Monterey Park. In its aftermath, Asian Americans throughout the nation are grieving, and calling for answers to a gun violence epidemic.
"It was a wake up call to a lot of people in the Asian American community, that we are not immune to the scourge of mass gun violence," Monterey Park Mayor Pro Tem Thomas Wong said.
Our AAJA Voices team conducted 20 interviews, speaking with directly impacted residents and community leaders, as well as activists, politicians, and public health experts. In doing so, we attempted to chronicle the journeys of the Asian American communities at the heart of this mass shooting to ask: What gaps did these tragedies expose in mental health services, language accessibility, reporting protocol, and gun safety law?
'Scarring to Me'

"I didn't sleep for three days, including that night," Tsay shared, describing the anxiety that consumed him after the terrifying struggle at Lai Lai. Each time he closed his eyes, haunting dreams of the altercation would jolt him awake. The memories, he said, were "scarring to me."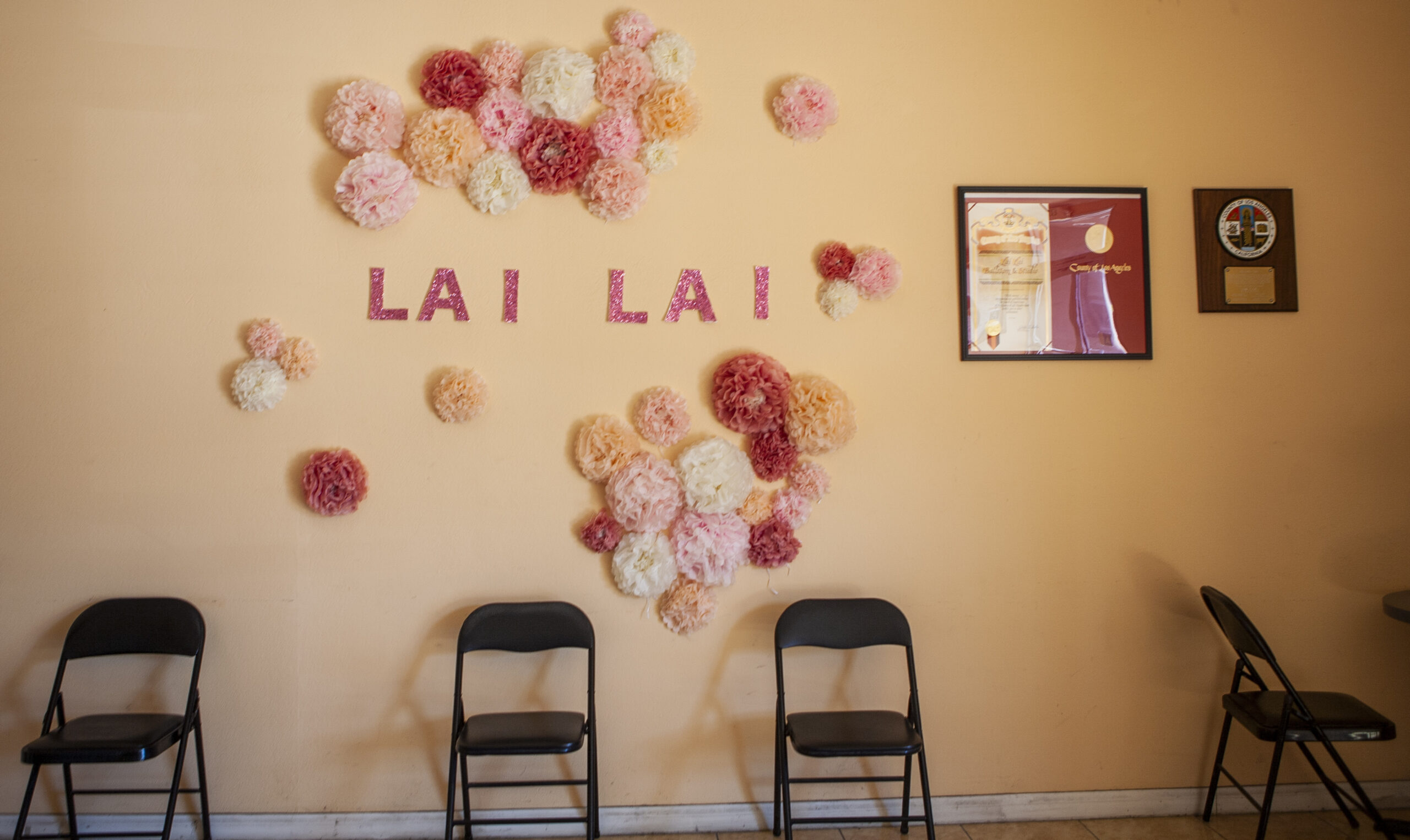 In the following months, Tsay experienced extreme paranoia in public spaces. The incident "just killed my benefit of the doubt for other people and strangers," he said. No matter the activity — eating out, visiting the mall, or grocery shopping — Tsay remained on edge, always looking over his shoulder.
Reaching a breaking point, Tsay recognized that he needed help. With the assistance of a therapist from the Yellow Chair Collective — a multicultural psychotherapy group dedicated to Asian American mental health — he finally began to work through his pain.
Tsay is just one of many San Gabriel Valley residents grappling with trauma after the shooting in Monterey Park. Particularly for Asian Americans who had not previously considered mental health a pressing concern, the tragedy sparked an awakening.
"[My family was] occupying themselves right after the incident so that they were not just taken over by what happened," said Fonda Quan, the niece of Mymy Nhan — one of the victims of the Monterey Park shooting. "But when they did hear about the shooting at Half Moon Bay they were pretty alarmed. This is the closest our family has ever talked about mental health because it was not just one isolated incident."
Mental health services, however, aren't always accessible to Asian Americans who need them, a challenge further compounded by stigma prevalent among Asian American households. In 2018, Asian Americans were 60% less likely than white Americans to have received mental health treatment, according to the U.S. Department of Health and Human Services Office of Minority Health.
This disparity is particularly relevant for Monterey Park, a city in the San Gabriel Valley that is a hub of Asian American culture and considered by some as America's first suburban Chinatown. According to 2022 Census Data, 65% of the city's 58,554 residents are of Asian descent.
Linda Yoon, the founder and co-director of the Yellow Chair Collective, said these inequities stem from numerous barriers to access — affordability, lack of insurance coverage, language obstacles, and limited cultural competence to name a few.
Yoon said that Asian American mental health professionals are able to better understand Asian culture, family dynamics, ethnic or cultural issues, and nuances that other therapists might not pick up on. But according to an American Psychological Association survey, only 3% of working psychologists were of Asian American descent, in 2021. 
"We are seeing a lot more counseling, social work students going into fields, who are Asian American, but it is still very white dominated," Yoon said. "So when you try to find a provider who understands your culture, who speaks your language, it can be very hard."
Sonny Le of Oakland, who has dedicated over 20 years to serving as a medical interpreter for Vietnamese and Chinese senior citizens, noted the newness of terms like "depression" and other mental illnesses, even in English. "If they didn't exist in America in the '60s and '70s, how would your mom and dad or those that came from Vietnam, China, know those words?" he said. "How do we teach immigrants and refugees to understand that there are invisible disabilities?"
Older Asian Americans – who live away from their culture of origin and are often monolingual – also struggle with feeling lonely, Yoon said: "I worked with that population for a long time — and I have to say that was the most heartbreaking for me, because there are even less resources for Asian elderly."
Monterey Park's Langley Senior Center is trying to address this issue of loneliness among Asian elders, offering free programs for the city's senior citizens, such as daily lunches, exercise classes, as well as mental and physical health seminars. Most of the seniors there only speak Mandarin and come to the Senior Center for a sense of community and routine.
74 year-old Sharon Kuo, who immigrated from China to Monterey Park in 1982, is a regular at the Senior Center. There, she likes to exercise, practice tai chi, and spend time with her friends — activities that help her maintain community in old age. Kuo attributes a part of the gunman's motive to his loneliness. (Though Yoon and other activists have emphasized that mental health issues are not an inherent cause for mass shootings.)
During the COVID-19 pandemic, the senior center was a lifeline for older Asian residents, and it has remained one through the mass shooting in Monterey Park, said Memo Chavez, the Langley Senior Center's Program Coordinator. "This is like their family."
What happens after a mass shooting?
When a mass shooting occurs, government agencies like the sheriff's department and the City Council serve as the first point of contact with victims, according to Connie Chung Joe, CEO of Asian Americans Advancing Justice, Southern California (AJSOCAL). Yet, these entities regularly lack the "language or cultural competency" for the communities they serve. In the case of the Monterey Park shooting, Asian immigrant seniors weren't able to access reliable information in their language.
Instead of relying on traditional print and broadcast media, these elders often turn to WeChat, World Journal, Chinese media outlets and word of mouth, which can create disconnect between the facts and reality, according to Chung Joe. 
News outlets that identified and pronounced the gunman dead by a self-inflicted wound the day after the shooting did so in English, Spanish, and American Sign Language, while many San Gabriel Valley residents only speak Mandarin and Cantonese. Residents were still "fearful that the shooter was out there," Chung Joe said.
Le added that Asian Americans are also less likely to report crime. "Our people — elders, new immigrants — they have a problem interacting with the police to begin with: the cultural barrier, language barrier," he said.
Local government agencies are now thinking of ways to partner with community organizations to better serve Monterey Park residents. Although the government handles the emergency response, it's the community organizers who work with affected residents long-term, Chung Joe said.
Quan said she and her family received the most support from friends, neighbors, and local organizations. "Even random people that we don't even know are showing up and giving us things, and we're like 'Oh, geez,'" she said. "Our families also don't want to be in debt of people, but rather, we would take the bonds and contribute back to the community and hopefully that will make it a better place."
Quan described her aunt Mymy — who helped raise her in their multigenerational home — as incredibly selfless, dedicating her whole life to family. Now, Quan is working to channel her aunt's giving nature in a legacy fund. She plans to contribute yearly to an organization of her family's choice that will directly benefit the San Gabriel Valley.
"The [Monterey Park] community does feel close knit in a way and it just feels like home," said San Gabriel Valley native Brittney Au, who founded Compassion in SGV — a nonprofit dedicated to the Stop Asian Hate movement. 
Au still regularly passes by the scene of the shooting, even dropping by the stores in the same small lot. Shoppers frequently visit a grocery store located right next to Star Ballroom — a sharp contrast to the now empty and closed ballroom, which shows no sign of re-opening.  
The "eerie" and "heartbreaking" feeling still lingers for Au. But despite these feelings, she and other community organizers held a vigil and blessing ceremony in honor of those who passed.
"I remember just hugging someone and we both started crying, and it was the longest hug ever, but it was really necessary to move forward," Au said. 
Chung Joe also took action immediately after the shooting, grappling with the question: "What are we going to do?" AJSOCAL created a GoFundMe for the victims and their families — raising more than $1 million in 10 days that is still being distributed to affected families. 
AJSOCAL also worked as the liaison and coordinator for other government resources: reimbursements for medical costs and airlines providing free flights to victims and their families, amongst others, which Chung Joe said individuals were often distrustful of at first. 
Chinatown Services Center, a nonprofit that provides social and health services, also supported the victims' families with everything from funeral planning to documentation and visas. The Center also set up walk-in mental health services at Monterey Park's Bruggemeyer Library.
"Our patrons come and they ask us for help with everything," Diana Garcia, City Librarian for Monterey Park, said. "We know all about their lives. They come and ask us about help with immigration, and we're not lawyers but we connect them with those resources; they ask medical questions, and we're not doctors but we connect them with clinicians — so I know that we would have our patrons come in, needing help processing this."
Unfortunately, these services may continue to be vital. In response to the Monterey Park shooting, David Hemenway, a professor of health policy at the Harvard T.H. Chan School of Public Health and co-director of the Harvard Injury Control Research Center said they "just blend in now with all the others." He continued, "It used to be that they were so rare. You could remember one from the other. It's just so disheartening and so sad, and it clearly does not have to be like this." 
'Violence is predictable and preventable.'

The push for stricter gun laws is mobilizing Asian American voters — the fastest growing voter bloc in the past two decades — to the ballot box. Asian Americans ranked gun control as their utmost non-economic concern ahead of the 2022 midterm elections, third to inflation and the economy, according to the Hart Research poll.
Though 77% of those surveyed agreed that the United States should have stricter gun laws, gun control hasn't always been on the forefront of Asian American voters' minds. Varun Nikore, Executive Director of the AAPI Victory Alliance, said prior to the rise in anti-Asian hate crimes like the Atlanta Spa shooting, gun control has "rarely" cleared ranks as a top 10 issue.
But that has changed after the traumatic mass shootings of the past few years. Congresswoman Judy Chu — who chairs the Congressional Asian Pacific American Caucus and whose district includes Monterey Park — said the issue of gun control "comes up over and over again" in conversations she has with her Monterey Park constituents. 
She partnered with Senator Kirsten Gillibrand to introduce legislation that would implement red flag laws — prevention laws that temporarily remove firearms from individuals who are identified as a danger to others or themselves — as well as require federal agencies to provide "in-language and culturally competent" outreach to communities on gun measures, according to Chu's press release. 
"My guess is probably nobody in the immigrant community knows about [red flag laws], nor do they know about the mechanics of how to implement them," Chu said. "So I want to require outreach on this in different languages, plus another gun safety measure such as gun storage."
While destigmatizing mental health issues in AAPI communities like Monterey Park is a top priority for Chu, she also noted how the gun lobby and the National Rifle Association attributes the root cause of mass gun violence to mental illness. "The real problem is the tremendous availability of guns," she said. 
"After mass shootings, we often hear the same tropes again and again — 'We need to focus on mental health. That's how we're gonna get out of this,'" said David Hogg, a survivor of the 2018 Parkland high school shooting and the co-founder of March for Our Lives. "Hatred and racism are not mental illnesses. But I do agree that it's just difficult because there's so little room for nuance, like I agree that we need more mental health funding."
But for now, there's congressional stalemate. In the meantime, Chu encourages local leaders to lobby their states to bring forth gun safety bills. Monterey Park Mayor Jose Sanchez said he is working with state legislators to propose legislation next year that would create a Federal Emergency Management Agency-style response organization within California to provide cities impacted by mass shootings with funding for social services like mental health resources and translators, which Chu said she supports. 
Sanchez said he hopes Monterey Park Assemblymember Mike Fong's three gun safety bills are pushed to the governor's desk. Fong's AB 732 would reduce the time frame in which an out-of-custody defendant must surrender their firearm after being convicted, and mandates that the Justice Department issue a monthly report to local law enforcement agencies identifying those who have not relinquished their firearms. 
On a regional level, Sanchez advocates for local leaders to have a plan in case of a mass shooting, particularly given that California is bordered by states like Nevada and Arizona that allow open-carry. He is also looking into citywide enforcement of red flag laws.
In April 2023, the LA County Office of Violence Prevention unveiled a 40-point Gun Violence Prevention Platform, which emergency room physicians, mental health professionals, community leaders, and survivors helped develop.
The office's executive director Andrea Welsing emphasized that everyone has the power to reduce gun violence by urging their representatives to support measures like the assault weapons ban and universal background checks.
"Someone in that community must have seen signs or symptoms, must have noticed something," Welsing said. "Violence is predictable and preventable. We always have to remember that."
Dancing Again: Monterey Park begins to heal
"This encounter really opened up this new interest I have, where I get to really understand the community more than I have ever before," Tsay said. He now wants to go back to college and take up another major, sociology and communications. "I want to better understand people, and I want to better, you know, understand me."
Tsay recently created a nonprofit fund called the Brandon Tsay Hero Fund to make mental health resources more accessible for "marginalized adolescents and seniors." He describes advocating for the community as "a new experience," adding "I'm kinda learning along the way."
The community, too, is learning as it gradually recovers — learning of its ability to come together after tragedy, and to come back more resilient than ever.
Tsay said that Lai Lai was painted in a bad light immediately following the news of the shooting, and its patrons were skeptical of returning. In response, the studio increased its security measures: upgrading their cameras, improving lighting, and hiring a security guard. 
Tsay and his family realized they needed to promote community healing and "kill this negative connotation we have." So, they organized a series of events—showcases, dance parties, anniversary celebrations, birthdays, and a community dance hosted by LA supervisors. 
"We're getting people — faces we haven't seen in awhile — come out again," Tsay said. "I'm glad we're seeing more liveliness in our city."
Chung Joe spoke to roughly a dozen victims at the community dance, held in May during AAPI Heritage Month. When she remembers the event, one individual stands out: a victim who had been injured at the shooting.
According to Chung Joe, this was his "first time out in public in four months since the shooting." Not only did he just venture outside, he danced with about 400 people in attendance. By the end of the night, he had transformed his fear into love. 
"I saw him dancing with some of the other victims," Chung Joe said. "What kind of healing that must be to be able to come back out and do something like dancing […] [which he] really loved and had been missing for four months."
Ryan Doan-Nguyen is a rising junior at Harvard University, where he is studying History, Literature, and Government.
Amber Xiaozhi Chen is a rising sophomore at the University of California, Berkeley, where she is studying Society and Environment.
Sejal Govindarao is a rising senior at George Washington University, where she is studying Political Communication.
River Zhang is an incoming master's student at New York University, where she is studying News and Documentary.
Naomi Vanderlip is a rising senior at California Polytechnic State University, San Luis Obispo, where she is studying English and Journalism.